How do I set up and use custom requests feature for my benefit?
The Request menu is one of the best tools available on My.Club to help creators make more money. The premise is simple: you include your services and activities you're willing to offer along with the prices. Subscribers then pay for the activity they want, and you deliver it.
What's great about it is that the Request menu is totally custom, so it's up to you what to include there. You're in full control.
How to set up My.Club's custom requests feature

Setting up My.Club's custom requests will take you only a couple of minutes. Go to your Account settings, and then select "Request menu". You will then land on the page to add your custom requests one by one, with the delivery time and price. Furthermore, it's recommended to add a description as it will make more clear for users what you're offering.
You can create up to 10 different custom requests. In order for them to be displayed on your Request menu, you must enable the "Activate" option in each custom request panel. If you turn this option off, the custom request will be still saved in the Request menu settings, but it won't be displayed for subscribers on your Request menu.
My.Club custom requests best practices
Meet the delivery time
It's important to keep customers happy, especially when they're paying for something. It goes without saying that you should try to deliver the request within the estimated delivery time in order to keep your customers satisfied and possibly coming for more. But aside from that, it's also important to deliver the requests on time because otherwise it might affect the percentage of completed requests that it's visible in the Request menu in your profile. If users see that you have a lot of undelivered requests, they might feel discouraged to place any.
Note that after you receive a request, you have 24 hours to accept it or decline it. If you accept it but fail to deliver it on time, the user will receive an automatic refund. However, if you decline it (either because you're not ready to perform it or any other reason) and write the reason why, it will save you and the user time and will not affect your request completion rate.
Update your Request menu often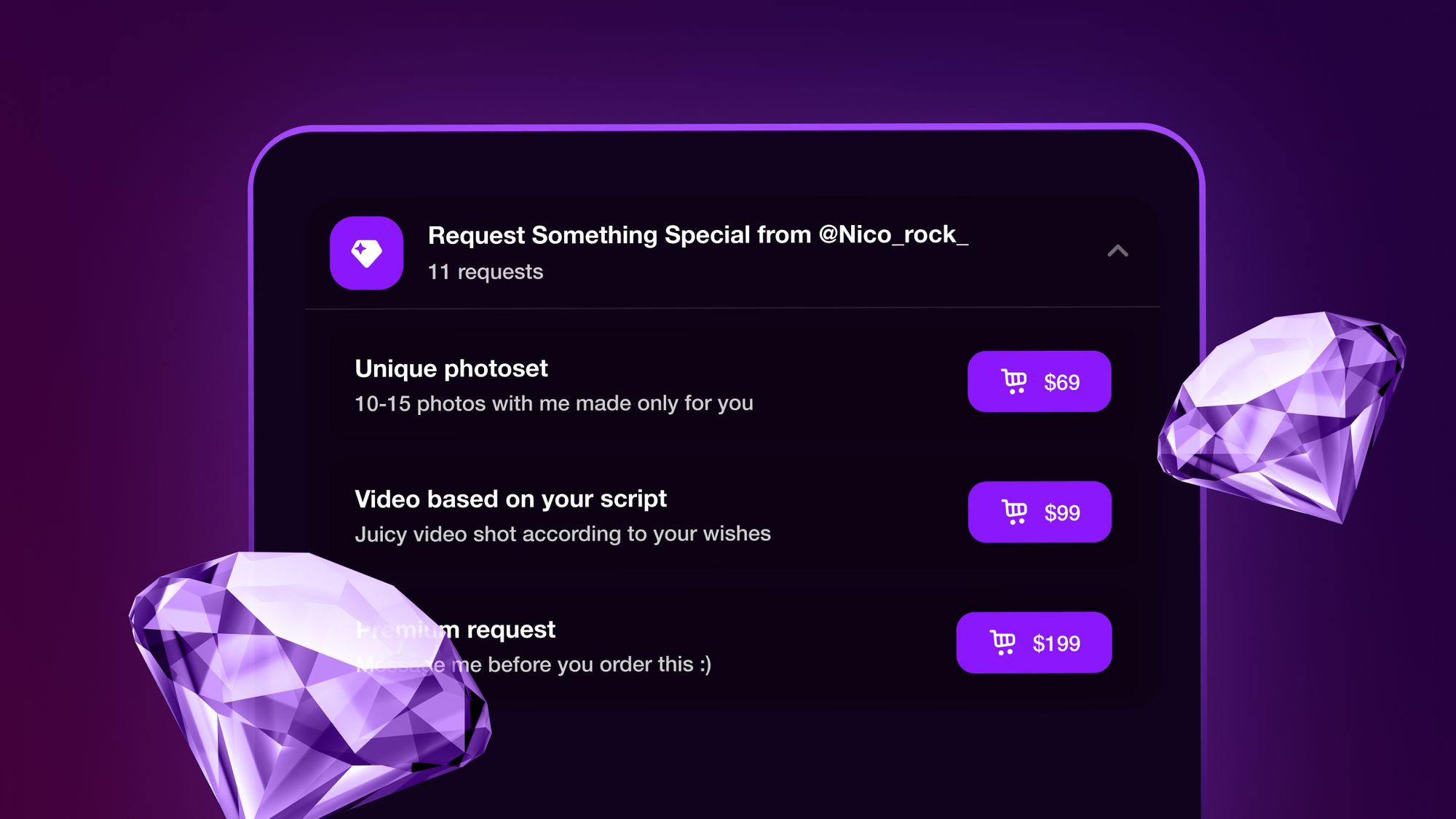 On My.Club, there's a special Discover page for custom requests named "Special Requests". In order to increase your chances of having one of your custom request options displayed there, it's recommended to update your Request menu options regularly.
Take inspiration from the Special Requests page
You can always scour the Discover page "Special Requests" for inspiration to come up with your own custom options and to see other My.Club's custom requests success stories.
You can see what other creators are offering and for how much, which can give you an idea of how the market looks like. Remember that the more original and unique your custom request options are, the more interesting you will be as a creator for your audience.
My.Club custom requests tips and ideas

The sky's the limit when it comes to using My.Club's custom requests. You can include anything you can think of, and the more creative, the better and the more it will set you apart from the rest of creators.
Some ideas that could work very well are custom photos or videos, a unique birthday greeting video, a photo or video in a specific costume, a video playing an instrument completely nude, a striptease video, a stretching video… In short, any content where you do something unique that no one else can offer.
Likewise, you can also offer a "request whatever you're craving" option, and when a user pays for it, they can send you a comment with their personal request, which you can then agree to or not. With this option, users will be more willing to make a request and pay for it since it is custom.
Ultimately, it's up to you whether or not to accept a custom request, even if the user has already paid for it.