Best AllMyLinks alternatives to consolidate all your links in one place
If you're like most people, you probably have multiple accounts scattered across different sites. Let's say that you want to post all the important links on your social media to share them with your audience in each platform. Most social sites only let you post one URL, so you have to pick which one to showcase. Add to the mix the fact that many social media platforms block any links to NSFW sites (adult content creators, sounds familiar?), and you have the perfect recipe for link chaos.
This is where websites that can consolidate all your platforms into one easy-to-find profile come into play. By combining all your social media links into a single page, you can make it a breeze for your followers to find you on every platform, and you can forget about the hassle of narrowing down links.
One of the most popular websites that offers link-in-bio solution is AllMyLinks. However, there's a whole array of AllMyLinks alternatives that provide unique features and a user-friendly interface to help you navigate the world of online content creation – and they might adjust more to your needs than AllMyLinks.
Whether you're a model, influencer, content creator, or you simply enjoy having an online presence, these platforms offer the perfect space to share your work and engage with your audience. So learn about what is AllMyLinks, get a list of All My Links alternatives and find the right one for you and your business.
Websites similar to All My Links
My.Club's custom domain

This is probably my favorite AllMyLinks alternative, and it will be yours too. My.Club is a subscription-based platform where content creators can sell their content and connect with fans. But that's not all; they also have a custom domain service that offers a personalized promo page with a free custom domain where creators can include all their social media and other links. It's like having your very own unique website address that links out to all your most popular socials.
My.Club's promo page pros:
Free personalized website with your name
Enhanced credibility and professionalism
Improved discoverability
Brand establishment
Visual customization
Safe and all-sites friendly
Ease of use
To be able to create your own promo page though, you need to first register on My.Club (which is a great chance to try the platform, see how amazing it is and how much money you can make on it). If you have an OnlyFans or similar account, you can transfer all your content from there to My.Club in just one click, so setting up your club would take you no time or effort.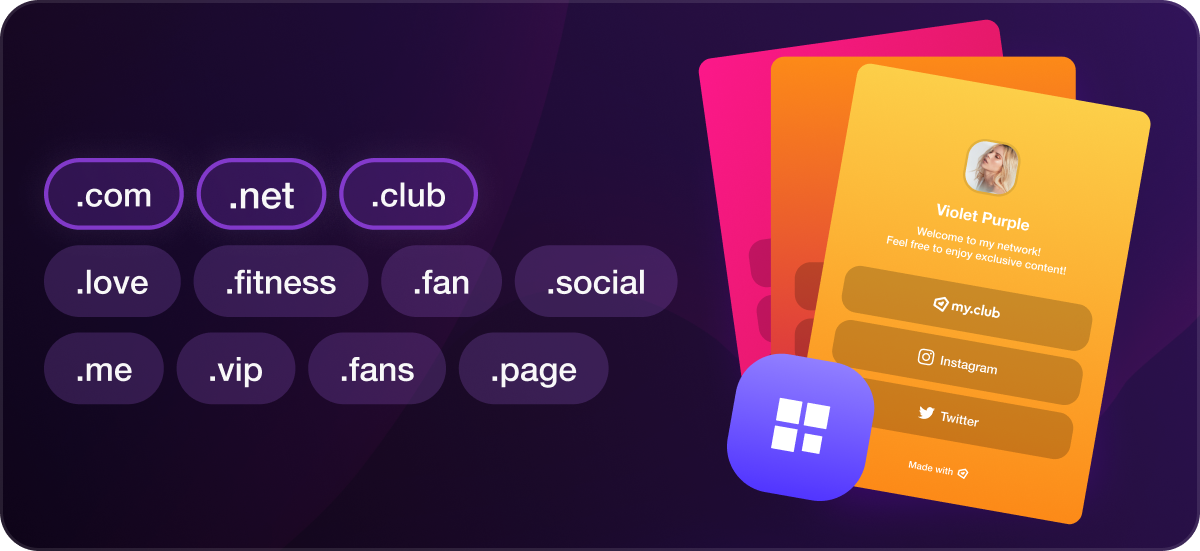 Regarding the promo page, you can decide on the name of your domain and then choose from 12 domain zones: .com, .net, .club, .fan, .vip, .me, .fitness, .love, .fans, .social, .page, and .pro. There are also different page color themes that you can choose from to add a splash of personality, and you can even add a description. The best part is that you don't have to worry about getting blocked when sharing the promo page on social media, as it's 100% safe and all-sites friendly.
My.Club's custom domain service is super easy to use, it looks fire and it's completely free; My.Club hosts the domain for you. So you basically get your personal website with your name completely for free. Is there anything cooler than that? And that's exactly what makes My.Club's promo page feature stand out and the best option for anyone looking to consolidate all their links. With a custom domain, you can establish your online presence and brand yourself effectively. Not only does it provide a professional touch to your online identity, but it also helps you stand out and make a lasting impression on your fans and followers.
Having a custom domain also offers additional benefits such as improved credibility and discoverability. When content creators for example, have a personalized website address, it portrays a sense of professionalism and trustworthiness to their audience. Moreover, the custom domain makes it easier for fans and followers to find them and remember their page. Imagine how memorable and user-friendly it would be sharing a custom domain of your choice instead of relying on complicated URLs or generic platform addresses.
2. Linktree

Another great AllMyLinks alternative is Linktree. If you compare Linktree vs AllMyLinks, on both platforms you can combine all your social media links in one easy-to-use spot. This free website lets you showcase your YouTube, Tiktok, and Instagram accounts all in one place. Plus, it's known for its simplicity and ease of use, making it a top choice for all users. Unlike other sites that charge for additional features or specialize in Instagram design, Linktree is completely free and creates clean, easy-to-read pages. If you're looking for a stress-free way to create your own compilation page, Linktree is a very good choice.
3. Lnk.Bio

If you're looking to jazz up your online presence, Lnk.Bio might be the All My Links alternative for you. With customizable backgrounds, fonts, and colors, you can create a profile page that truly reflects your personality and style. And with the option to add interactive elements, like clickable icons and buttons, you can make it easy for your followers to navigate to your various social media platforms and online content.
Plus, Lnk.Bio is easy to use and navigate, so you can spend less time designing and more time creating and sharing your content with the world.
4. TapLnk

Picture this: you're scrolling through your favorite website, and you come across a post that mentions a really cool website you want to check out later. Normally, you'd have to copy the link and open a new tab to save it for later. But with TapLnk, those days are over. With just one click of a button, you can save that link to your TapLnk account and come back to it whenever you want. It's like having a personal bookmarks bar that you can access from anywhere. Say goodbye to the hassle of switching between tabs to save your favorite links; TapLnk has got you covered, thus presenting itself as a perfect All My Links alternative.
5. LinkFool

Among the top websites like AllMyLinks we have LinkFool, which can help you expand beyond social media by linking out to documents, images, videos, and more.
You can link out to a variety of multimedia content such as documents, images, videos, and more. By doing this, you can provide a more engaging user experience for your audience, increase your brand visibility, and even improve your website's SEO ranking. So why limit yourself to just one platform when you can utilize LinkFool to showcase all the amazing content you have to offer? It's time to step up your digital game and give your audience something worth clicking on.
6. Rebrandly

Do you ever wish you could track visits to your links in real-time and customize their appearance with ease? Well, Rebrandly allows you to monitor clicks on your links as they happen, providing valuable insights into how your content is performing. On top of that, with its dynamic custom domains, you can create branded, memorable links that stand out from the rest.
7. Milkshake

We can't talk about good alternatives to All My Links without mentioning Milkshake. With their application available on Google and Apple stores, you can easily design a page with text, images, GIFs, videos, and more while customizing it to fit your brand using different colors, fonts, and logos. And the best part? No cost to you! While it may lack some of the advanced features found in paid services, Milkshake provides a simple and practical solution for all your content creation needs.
8. Bitly

Bitly offers analytics and insights into your links, giving you valuable data about how your content is performing. With the detailed click-level analysis, you can measure your ROI and optimize campaigns for better results. Additionally, Bitly allows you to customize the appearance of your links with custom domains and shorten long URLs for easy sharing. With their advanced security measures, such as two-factor authentication and link expiration, you can be sure that your data is secure and accessible only by those who need it.
9. Sniply

Another great link management tool is Sniply, which allows you to add call-to-action buttons to any link. With this handy tool, you can customize the look and feel of the link with dynamic custom branding, as well as track visits in real-time and measure conversions. You can also personalize links by adding messages or special offers to make your links stand out from the competition. Moreover, Sniply has powerful analytics dashboards so you can quickly analyze performance and optimize your campaigns for better results.
Takeaway
All of the above sites similar to AllMyLinks are great options for those wanting to take their profile links and content to the next level. Whether you're just getting started or an experienced user, all these platforms are designed for ease of use and maximum efficiency. Each one offers something a little different and customizable so that every user can find something that works best for them. Not only will these link management platforms help improve your branding and messaging, but they'll also give you the ability to tailor your profiles to fit unique business needs.