How to keep your audience engaged and make more money
That's the magic word: engagement.
We can all agree that having 20 subscribers is better than having 300 followers checking your free content but not subscribing or spending any money on you. Engaged users are more valuable. Plus, on My.Club, it's not just about subscriptions; if you have engaged subscribers, on top of the monthly fee they're already paying, they may tip you, make requests, etc. That is, bring way more money your way.
Now then, how to build audience engagement?
Prepare a welcome message

Welcome messages are an optimal way to make a great first impression (and establish the beginning of a beautiful creator-customer relationship, of course). You can set welcome messages for paid subscribers, free members, and followers. Once they subscribe to your club or start following you, they will receive the welcome message from you (if you have it enabled). Moreover, you can also add a media file to your welcome message, which is a stellar move.
Pro tip: ask a question like "what's your name?", "what excites you?", or "what exactly did you like about my club?" This way, you're increasing the chances that the user will answer you back and bond, aka turn them into returning customers.
Harness the power of mass messages
Mass messages are a great tool to build engagement because you're talking directly to your fans but sparing you the time of going one by one. You can announce new content, ask any question, remind them of something exciting, or just send anything you think will be important for your fans to know or see.

On top of that, mass messages are also a god monetization tool, as you can decide whether you want to send a free or paid mass message. Moreover, you could also attach photos or videos to your mass message, to make it more engaging.
Whet your fans' appetite with a teaser
This is one of the strategies that works best. How would anyone be interested in your photos if they don't know what they're missing by not buying them? Nothing better than a good bait to pique their interest. Going back to mass messages, it would be optimal if you could send a mass message with a photo sample attached to your followers. The photo can be free, so that they have a taste of what it would be like to buy your other nudes, or paid one, in which case it would appeared blurred until they pay to unlock it (the premise is that curiosity kill the cat).
Post often
Posting regularly is a great My.Club user retention tactic. It's important when you have subscribers, as they always have something new to see, thus keeping them engaged and interested. However, it's also important to do it even in the previous stage when you're looking for new subscribers. Why? Because as previously mentioned, users can see the number of existing posts you have, even if they're not subscribed, and there are more chances that they will subscribe to your club if they see that you have a lot of content to offer and update it regularly. Nobody wants to pay to then receive only one post per month, right? So make sure to have your club full of content to make your profile look more complete and legit.
Schedule posts
It's important for your audience to be aware of when your posts get published, or otherwise, you might lose out on viewers. That's why scheduling posts comes in handy. Ensure you have a fixed schedule for when you post your content and schedule your posts and stories. They will be automatically published on the selected day and time. This way, you will also be able to devote all your free time and attention to communicating with your fans.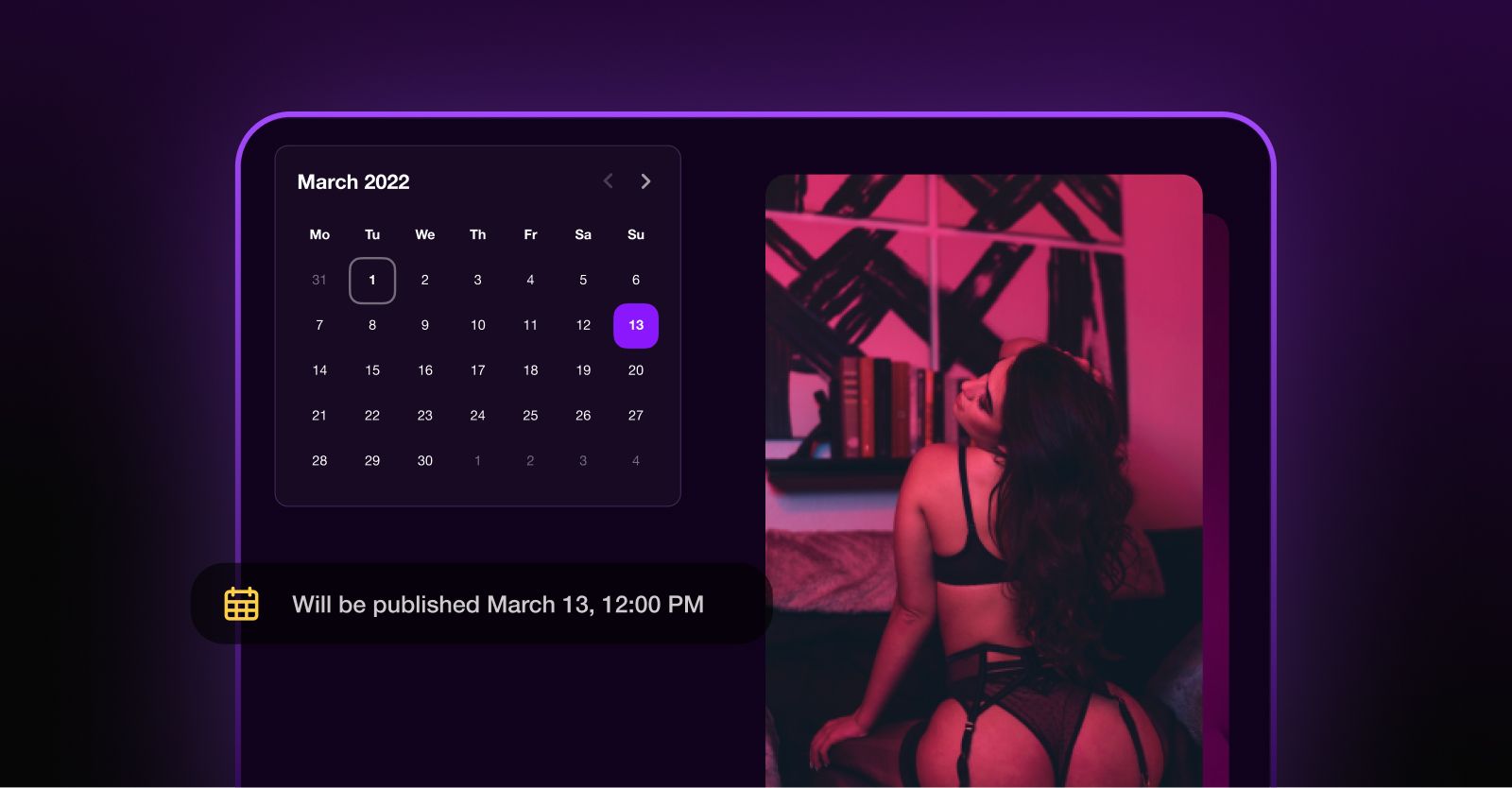 Check your analytics
Checking and keeping tabs on your performance is crucial for boosting engagement as well as your revenue. We recommend visiting your analytics and stats dashboard to gain insights into your paying users. You'll be able to see who hasn't spent money on you recently and shoot them a private message to entice them back or see which strategies or content sell better to stay on that track.
Get to know your audience
When you understand what your audience is interested in and what draws them to your club, you can customize your efforts to deliver what they're looking for. In short, you will be able to speak their language. Communicate with them via messages and test the waters to see what they're into.
Create a connection
Once you have a general idea of what your audience is about, it's time to put the next step into action: creating bonds. Having a personal connection helps your viewers relate to you and keep coming to your room.
There is no blanket rule here on what are the best practices to build bonds, you will have to trust your instincts and pull out your best social skills. However, we can tell you that making everyone welcome is key. Make your fans feel like they are an important part of your club, call them out by name so that they feel part of the community, and give them shoutouts to recognize their tips and contributions.
Being responsive is something you should also check off. Be attentive and always try to answer every message in PMs.
With these hacks in mind, let's move on to the next topic on how to make the most of the platform: new content ideas and trends.