How To Sell Pussy Pics Online? Tips For Selling Vagina Pics
Knowing how to sell pussy pics is a valuable skill everyone should possess. You never know when you will need a side gig or want a way to make more money, and for those times, selling intimate images of your most private parts comes in handy, since it's a super lucrative venture.
However, if you're having a look at this article, it means you probably already have some pussy pics in your camera roll and want to explore the art of selling pussy pics. If this is the case, you've arrived at the right place. Let's dive into how to market and sell pussy pics and start cashing in on your most intimate parts.
How to sell pussy pics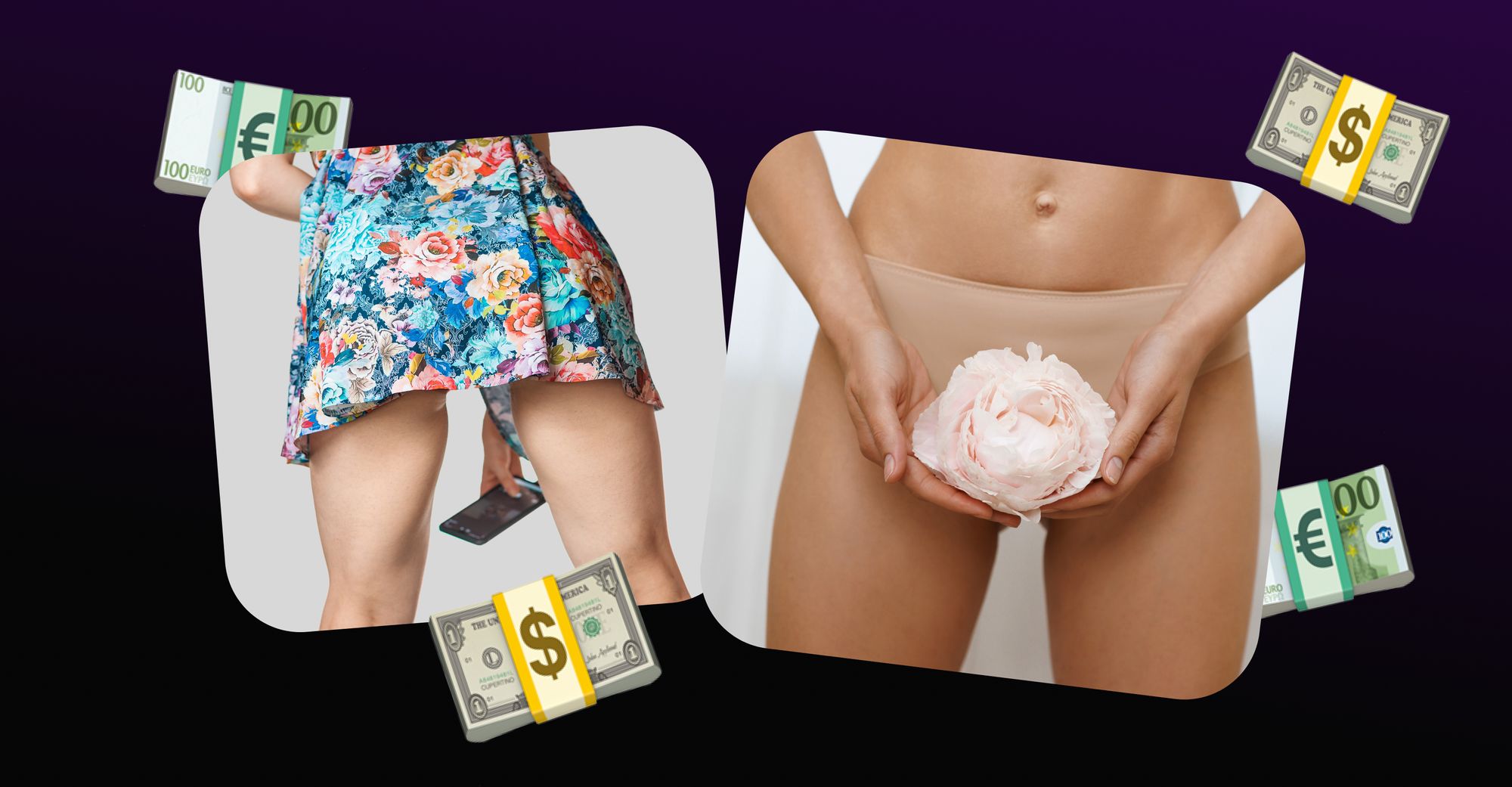 Choose the right adult platform
The initial inquiry that demands attention isn't exactly how to sell pussy pics online, but rather where. Thus begins the quest for the perfect platform—a journey of selection that shouldn't be taken lightly. The platform you opt for should resonate with your values and aspirations.
Embarking on the journey to find the ideal platform involves careful consideration of pivotal factors. Naturally, finances play a key role. Primarily, you should delve into the intricacies of fee structures, revenue models, and payout methods offered by various platforms. Diverse platforms boast varying fee percentages and payment setups that directly impact your earnings. Therefore, a discerning eye on the portion they retain from your hard-earned income is essential. Equally important is the spectrum of payment avenues they offer—subscriptions, tips, pay-per-view, and more. Opt for a platform that not only ensures a reasonable share but also provides versatile ways to facilitate your earnings flow in.
Additionally, ascertain whether the platform's payout mechanisms align with your preferences. The last thing you need is a complicated procedure every time you wish to withdraw your earnings. The hallmark of a reliable platform is its provision of varied payment methods, allowing you to choose what suits you best.
However, financial considerations are just the tip of the iceberg. Another crucial facet when looking for a place to sell pussy pics is the platform's content guidelines. You must determine whether your style and content are a seamless fit or if they might pose limitations. Familiarizing yourself with the platform's policies can preempt potential conflicts and ensure your content aligns with their standards.
Yet, the true essence lies in the platform's array of features. Opt for one that pampers you with possibilities. The more tools and options they offer, the more effectively you can connect and engage with your audience.
A prudent approach involves signing up for a couple of platforms where you would sell pussy pictures, though with moderation. Instead of spreading yourself thin, focus on one or two that genuinely resonate with your goals. Embark on this journey with measured steps, and you'll soon find your stride towards success.
If scouting through the plethora of existing adult platforms seems daunting, rest assured, we have your back. Allow us to introduce you to My.Club—an emerging sensation in content sharing and income generation. Here, you set the price for entry to your exclusive club and retain a staggering 80% of your earnings. Your responsibility then is to keep your club captivating by posting diverse content (yes, that includes selling pussy pic content), and the rest is history.
What distinguishes My.Club as the ultimate choice for both seasoned creators and budding talents is its amount of features that facilitate fan engagement and content sales, making your financial journey seem like a stroll in the park.
Moreover, My.Club has an unwavering commitment to maintaining an adult-friendly environment devoid of unexpected complications. You can entrust them to spotlight your extraordinary content while remaining true to their core values.
Take it to social media
If you're aiming to sell vagina pics like hot cakes, it's essential to establish a presence on at least one social media platform. Your initial subscribers are likely to come from your promotional efforts on these platforms, so it's crucial to spread the word about your exclusive club.
Before you start promoting your content on any platform, it's vital to understand their rules and guidelines. While My.Club welcomes adult content, platforms like Instagram and TikTok have stricter policies. Always exercise caution when sharing content, making sure it complies with each platform's rules.

Thankfully, My.Club offers a promotional page feature that provides you with a free personalized landing page featuring a custom domain. This page includes links to your social media profiles, My.Club account, and other relevant platforms, giving you complete control over your promotions. The best part? You get a website address that mirrors your brand, easily shareable across all platforms without any restrictions. This streamlines the process of reaching potential members online while ensuring complete safety and compatibility with all sites. This increased exposure will naturally lead to a growing member base.
Interact with potential customers
How to sell pussy pic content, if you don't interact and engage your clients first? It's essential to comment under related posts and have conversations with those who are discussing similar topics. Keep in mind that even if someone tries to provoke you, there's no need to respond offensively. Social media is a platform for diverse opinions, and not everyone will agree with your perspective or your business.
You might encounter negative comments or unfavorable remarks, but it's crucial to remain calm and polite. A valuable approach is treating everyone as a potential customer, regardless of how they communicate. Here are some further tips on how to interact on socials with others:
Get involved: connect with your target audience by leaving comments on posts within your niche or initiating conversations with individuals who share your interests. Genuine engagement is what will drive sales of buttocks pictures.
Avoid excessive promotion: refrain from saturating social media with your online marketplace link, especially in direct messages. Too much promotion can lead to annoyance and unfollows. Quality engagement is more effective than sheer quantity.
Steer clear of bots: avoid attracting bot accounts by overemphasizing your marketplace link. Bots won't contribute significantly to your business. Focus on building authentic connections for genuine growth.
Initiate thoughtful DMs: when someone shows interest in your content, politely reach out to them. Send a direct message or mention your offerings and that you sell vagina pics, offering to share the link if they're intrigued.
Start with sneak peeks

Your potential buyers have a constant appetite for fresh content, even after making a purchase. This is where your active online presence comes into play, fulfilling your promise of consistent updates.
But here's the twist – sometimes, you need to take extra steps to win over those who need more than just words to be convinced.
Remember, the adult content industry thrives on visuals, and you hold a powerful tool in your hands – visual teasers and previews! If you want to sell pussy pictures, begin by igniting their curiosity and sparking positivity. Tease them with enticing glimpses of the content they'll access as paying customers. By employing this visual strategy, you create a desire that leads to selling your buttocks pictures effectively.
Capture their attention with previews that leave them craving more of your exclusive content. Engage in the art of visual storytelling, sharing seductive sneak peeks that offer a tantalizing taste of what awaits them. Your captivating approach will leave them hungry for more, leading your adult content business to thrive like never before.
Surprise your buyers
Don't sell pussy pic content and settle there; think about providing a distinctive service that goes beyond the digital world. Craft an experience where your customers receive an envelope containing personalized polaroid photos of your pussy, along with a card featuring creatively written erotic content or a playful thank-you note. Elevate the experience by adding a personal touch with your favorite fragrance on a smaller card.
Another way to delight your customers is by surprising them with complimentary audio or video content. Consider recording yourself reading erotic poetry or sharing sensual moments that showcase your pussy. You can even send personalized audio messages to express your appreciation for their purchase.
Through these personalized gestures, you'll quickly realize the deep value people place on such thoughtful touches. These actions can cultivate loyalty and entice repeat customers who eagerly anticipate your innovative content.
In a crowded market, standing out and offering a distinctive customer experience is essential to sell pics of vagina like crazy.
Final words
Engaging in the online sale of pussy pictures can serve as a reliable side gig for individuals seeking additional income. Nevertheless, it's crucial to recognize that there's a competitive landscape within this adult-oriented niche. To truly make an impact and differentiate yourself, dedication and originality play vital roles. But now you're armed with the knowledge of how to effectively sell pussy pictures online, so go on and proudly showcase that asset and embark on a journey to generate substantial earnings!