The best My.Club bio ideas to attract new fans
On a content creation platform like My.Club, the bio section is like your business card. It's the first thing that users and potential fans will see, and it will give them a glimpse into your page and what you offer. It's only after checking your bio that they will make the decision whether to hit that subscribe button or not.
Since first impressions matter, making a statement with your My.Club bio is a must. Spend some time thinking of and curating a good My.Club bio, and you will have the pathway to success already paved. Coming up with killer My.Club bio ideas will definitely pay off.
So if you don't know what to put in My.Club bio, read on and take note.
But first, what's a My.Club bio?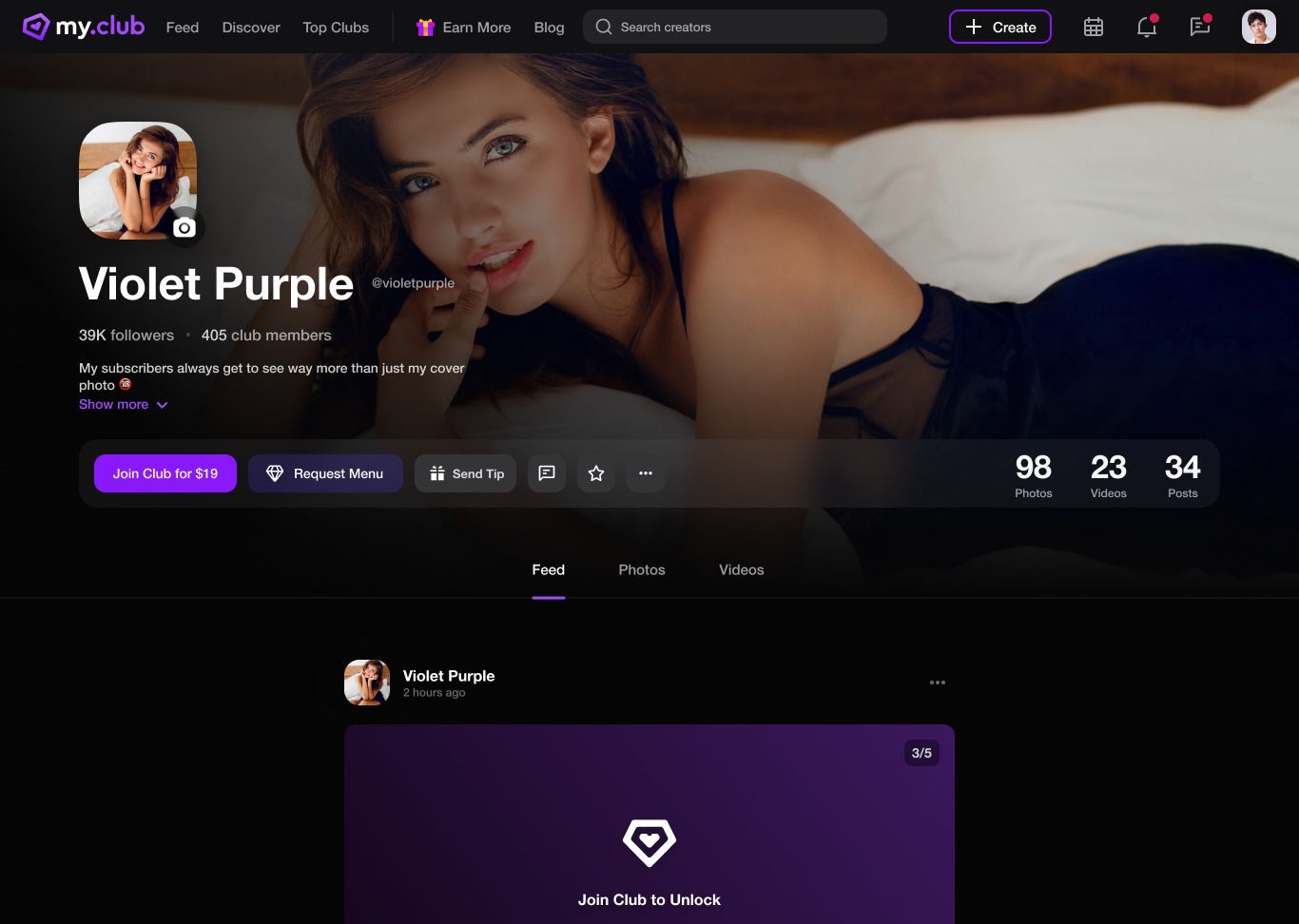 When you create your account, it's one of the first steps you have to complete. Your "About me" section or bio, is a short written introduction to your club that summarizes who you are and what kind of content you post.
If a user enters your club, the only things that will be visible to them are your written bio, your profile photo, and your cover photo. Therefore, all these three elements need to catch their attention, explain what your club is all about, and entice people to subscribe to it.
There's a character limit, so you want to get to the point with the first few sentences already. Hook readers from the beginning and keep them reading all the way through. The best My.Club bio is a brief but engaging one. It's also important to be accurate in providing the idea of the content you will showcase. If users get the content they were already expecting, there's a higher chance of retaining them.
Tips on how to write a My.Club bio
Look for some inspiration
It's totally ok to check out what others are doing or in this case, are writing in their bios. In fact, it's recommendable to get an idea of what you should say. However, there's a thin line between finding inspiration and being a copycat; don't copy what other creators have done.
Plagiarism is not the way, and repurposing or stealing content is one of the worst things you can do, especially if you want to start your career on the right foot. Rather, get ideas that can help you get inspired and creative when it comes to writing your own bio.
Be concise and straight to the point
We could say that living in the era of TikTok altered our attention span, making them shorter than usual. We're used to consuming short clips and fast content, so if you don't make your bio direct to the point, you might lose readers on the way.
Use emojis
Nobody likes a simple wall of text. Use emojis to brighten up your bio and make readability more bearable. But be careful; if you go over the top with the emojis, it can make your bio look spammy.
A good use of emojis would be adding the ones that relate to your niche and brand.
Always be yourself
In a world of social media where everyone tries to portray an image that in most cases is better than reality, it's easy to be disappointed when you discover that some things are not always what they appear to be. Avoid this by always being true to yourself. My.Club is not like other social media sites; here, the way to success is being authentically you. It's a safe space where you don't need to hide.
Of course you can have your own brand persona that you're tapping in when you create your content, but that's not at odds with being authentic and genuine, so keep that in mind when writing your bio.
Crush that elevator pitch
If you know a thing or two about marketing and sales, you've probably heard of the infamous elevator pitch. In case this sounds like Greek to you, the elevator pitch is a brief (think 30 seconds or less – therefore the elevator) way of introducing oneself, getting across a couple of key points, and making a connection with someone.
As you start wondering "what should I put in my My.Club bio" and get ready to write it, spend some time to come up with your elevator pitch. The more compelling you make it, the more likely fans will be to sign up and give you their money.
Test as much as you need
At the end of the day, what might work for others, might not work for you and vice versa, so it all comes down to finding your own formula. For that, you must not be afraid to experiment, try different things, and change what's not giving you results. If you have to switch up your bio, do it. If you have to try out different fonts, try them. If you have to experiment with different jokes or one-liners to see which one converts better, then experiment.
What to put in My.Club bio
1. Links to your social media
Your social media channels go hand in hand with your My.Club account; they are the funnels to find you new followers. If your socials grow, chances are your My.Club will too, so adding the links in your profile is a great idea.
Moreover, having the links to your Instagram and Twitter on your My.Club bio is also a way to build trust and authenticity. You will have more credibility since users will be able to check out who you are before they subscribe to your club, so it also adds up to your business card.
If you scour My.Club for other creators, you will see that most of them include links to their Instagram, Twitter, and even YouTube.
2. Hobbies and interests
A good bio for My.Club will most likely include hobbies and interests. The content creation world is not only about content itself, but also about interaction. On the other hand, users will be more prone to following you and subscribing to your club if you have any common grounds, so bonding with them over common hobbies and interests is one of the best ways to get overall growth.
Offer some information about yourself and the things you like to do. Let users get to know you better and maybe, even relate to you.
3. Turn-ons and turn-offs
There might not be anything fans are more interested in than knowing what you fantasize about and what makes you titillate. They like the idea of being able to get you excited, so by giving them a piece of information on that, will at the very least get their attention.
You can also include your turn-offs so that they know where the boundaries lay at.
4. Nationality
It might be beneficial to disclose this as some users might have a preference for creators from their own country, or any other specific nationality. You can also mention the country you currently live in and the language you speak.
5. Subscription price
You can display your prices and even tease your fans with what they will get if they pay the subscription.
6. Time on the platform
Telling members how long you have been on the platform might help some of them feel more comfortable subscribing to your club and paying the monthly fee. If you have been there for a long time, it will show that you're a veteran who knows what she's doing and who manage to succeed.
7. Posting schedule
Real fans will want to know when to expect new content from you and might even set an alarm on their phone to be ready. So inform them about when you usually post new content and how often (if it's once per week or more, etc.).
8. If you accept PMs
Some members might expect to chat and interact further with you, and should they know that's not an option, they wouldn't subscribe to your club at all. For this reason, it's good to be upfront and let them know beforehand if you don't accept direct messages. Thus, nobody will have to become angry later when expectations are not met.
9. Pickup line
There's nothing more attention-grabbing than a good pickup line. It's also a great icebreaker and it will cast you as someone easygoing and funny. If you have a sense of humor, don't be afraid to flaunt it and make people laugh. Humor is the best way to connect with people.
One-liner examples to include in your bio
· I am not the girl you will want to take home to meet mommy.
· Your HOEliness is back.
· I'm the HOEmie you always wished you had.
· I'm the type of girl that makes your mom proud and your exes jealous.
· I'm just here to make my bf jealous.
· Halal in the street, haram in the sheets.
· Subscribe if you don't want to miss the opportunity of a lifetime.
· Enough about me, what are YOU wearing?
· I may not be the most popular girl on My.Club, but I am the more fun.
· I'm just not a pretty face, I also have a great bum.
· My subscribers always get to see way more than just my cover photo.
· A nice lady like me deserves a gentleman like you.
· I am new around here, maybe you can be my first.
· Who runs the world? ME.
· Leaving a little sparkle everywhere I go.
· A pretty smile never goes out of fashion.
· I glow from within so that no one can dim my light.
· Life is too short for you to miss out on me.
· I'm the birthday present you have always wished to get when you were a teen.
· Doctor told me I have a Vitamin D deficiency. Wanna help?
· Dear crush: hi.
· I'm a badass with a good ass.
· Beauty is my superpower, and my smile is my attack.
· I've got the buns, just missing the sausage. Do you have any?
· I suck at everything and everything.
· I'm an angel during the day, and a witch during the night.
· I'm looking for a good boy to tame me, or a bad one to stimulate me.
· Hopeless romantic at heart.
· If you like my profile picture, I am exactly your kind of girl.
· Making people happy is my passion.
· Looking for deep connections.
Best My.Club bio examples
The welcoming bio
In this type of bio you can build a connection with potential customers by mentioning things that inspire you and your content. The idea is also to outline a few interests that would serve as possible common ground with your fans.
The explicit bio
Among the good bios for My.Club we find the explicit bio. This one is all about displaying how many photos and videos already exist on your club while also sharing your posting schedule and content type. You can even list your services or mention if it's solo content or with more people, if it's fetish friendly, etc.
The safe-for-work bio
While My.Club is adult friendly and many of the content creator there focus on this kind of explicit and NSFW content, it's totally ok to only produce non-explicit material. What's more, there are plenty of creators in that niche who are successful.
In this case the key to write a good bio is to state that at the beginning. Something along the lines of "Please be aware that I don't do adult content or nudes".
If your content specializes in something very targeted like fitness or health, list that in your bio.
Conclusion
Take all these ideas, combine them, switch them up, and try new formats until find the one that works best for your club (you will know when you start seeing more subscribers rolling in).
All it takes to succeed as a content creator on My.Club is a killer bio, stellar content and a drive to make it work. If you found this article useful, you might probably also want to check out our list of My.Club content ideas.