How to sell nudes online: the ultimate guide to make money selling naked pictures
Chances are, you have a couple (or more) of nudes sitting in your camera roll. Either from your flirty conversations with that hot guy you and I know about, or from that one time you felt especially sexy and decided to snap a shot just because. So the point is: why keep them to yourself when you could be selling nudes online for a living?
What started as a naughty way to get people hot, is now a lucrative business endeavour, with more and more people from all walks of life selling nude photos on different platforms (thank God for the internet). The reason why so many decide to embark on it is not only because it's profitable, but also because it's easier thank you think. For starters, all you need is good lighting, killer angles, and a stellar platform to sell them on.
Equipment
If you want to sell nudes, you'll have to make a little initial investment – that will soon pay off anyway – in the technical equipment.
First off, you need a camera to take the sexy pictures of yourself. Since nudes are purely visual, the image quality is super important, and anything below 5MP will be considered less than ideal if you want a shot at success in the biz.
If you decide to go for your phone's camera (you'd be surprised by the amount of nude models who just use their phone cameras to take their juicy shots), you must make sure that the camera specs and image quality are decent. Thankfully, most phones nowadays already come with very respectable parameters, not to mention that they also have smart features that can automatically adjust your images. If not, you can always download any photo editing app from your app store.
Another option for your camera device, is a DSLR, also known as digital single-lens reflex camera. They are of course much more expensive than other types of camera, but you're paying for big quality here. So if you're looking for the absolute world-class of image quality, a DSLR should be the route for you.
However, bear in mind that to use a DSLR to the best of its possibilities, you must have a certain degree of photography knowledge and skills. Also, if you want to edit your pics afterwards, you will need to use a separate photo editing software.
Next up is the tripod. It's not a must-have element, but it's a valuable one if you want to properly produce sexy pics and sell nudes like crazy. Good quality tripods can be scored for as low as 20 dollars, so it's worth buying one just in case. Of course not all of your shots will require the use of the tripod, but having one will allow you to expand the variety of images you can capture.
And last but not least, we have the lighting. Anyone can look like Angelina Jolie with the right angles and lighting, so don't overlook this part!
The best lighting system is the one composed of 3-point adjustable stand lights: two on each side and one in the front. Just make sure to never put lights in view of the camera, and you'll be good. If you want to go above and beyond, you can get yourself a soft box like many pornstars do. This way, you'd add a layer of diffusion producing a soft light and minimizing harsh shadows. Read our guide on how to take good nudes for more advice.
Types of nudes to sell online
You might be surprised, but yes, there are different types of nudes. Moreoever, not everybody wants to just see you flashing your boobs or spreading that WAP in front of the camera. There's a whole science to nudes and why people like them, so you must pay attention to certain details, especially if you want to stand out from the already thousands of models who are selling nude photos on the internet.
Selfies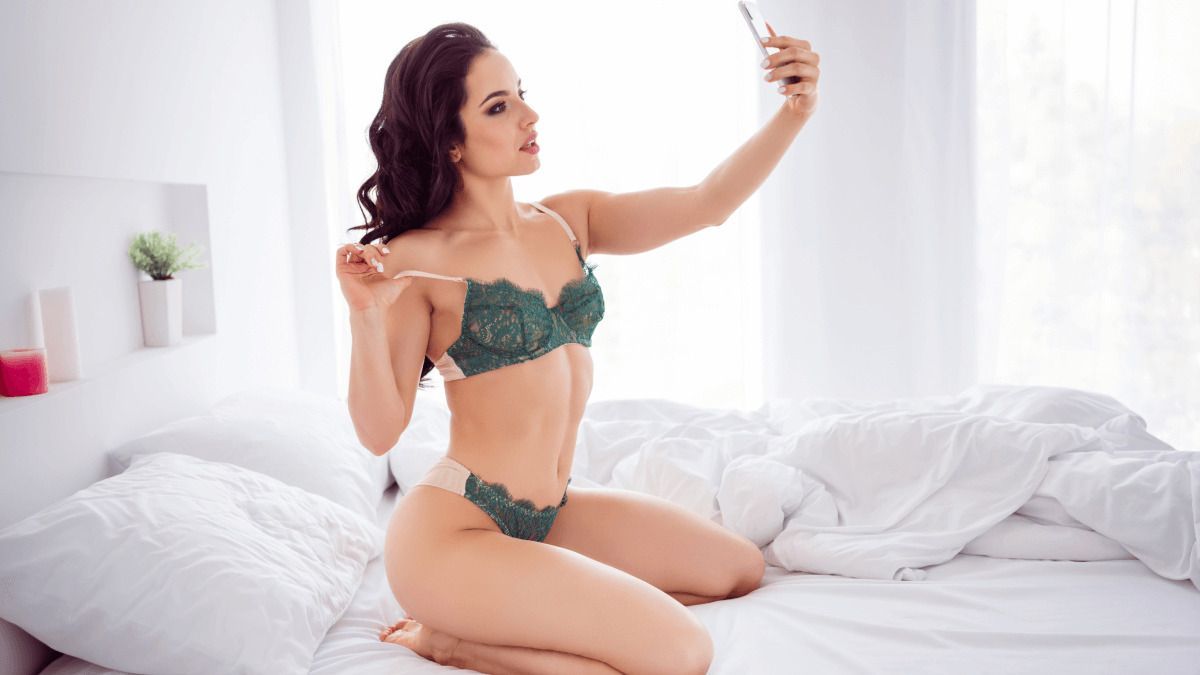 Selfies are probably the easiest type of photo to make and also to sell. You just need your unclothed self and the camera, that's it. On the flip side though, selfies are very limited in terms of angles and composition, so creative wise they don't offer much.
Full-scale photoshoots
For this type of shots, you'll either need a photographer or a tripod. The idea is to pose in a wide variety of angles and poses, with different backgrounds and maybe also in different locations to show off your assets. It's time-saving because in only one session, you could get content for a whole week.
You can even add a touch of creativity to the photoshoot and make it themed, maybe doing cosplay or something similar.
Polaroids
Polaroids are part of the higher tier of your store for those who want the premium experience. Why would viewers settle to online content when they can get a physical copy? Nonetheless, think of polaroids as a supplement to your main income, rather than your primary product.
You can sell nudes in a more personal way and surprise your fans by adding a little dedicatory or your signature in the back of the polaroid. You can offer them as sets or as individual pieces.
How to sell nudes?
Selling nudes online is easy if you find your niche. Specializing in something is not a mandatory step, but if you want to find a more target audience and thus ensure that money rolling in, it is advisable. Think about it: the more niche the photos you sell are, the less competition you will have and therefore, the more you can charge for them.
Focusing on a specialized niche also means that you will have less people looking to buy, so at the end it's a balancing act. What you can do, is focus on a certain fetish or niche, but not limit yourself to only that and sell regular nudes as well. Just find the market that you want to explore and milk it: BDSM, foot fetish, bondage… the list is endless.
Social media & followers
Having amazing mouth-watering shots means nothing if you don't have a following ready to pay for them. And where's the best place to find fans and promote your content? ✨ Social media ✨.
Everyone's hanging out online these days, so your best shot to reach as many people as possible is to go to your Instagram and especially Twitter account (adult friendly) and promote your profile and content there. Your first buyers will probably come from your social media efforts. On top of that, once you already have a fanbase, you can still use your social media channels to keep everyone in the know of every time you post something new.
You can use your already existing Instagram/Twitter accounts, or create a new one just to focus on your nudes career. If you choose the latter, start following people who already sell nudes and network with them, use sex-related hashtags to be discoverable by your target traffic, and add the link to your profile where you post your nudes so that everyone can find you and check you out.
How to make money selling nudes?
Pricing is obviously a personal preference, so what price tag to put to your nudes, is completely up to you. But keep in mind that if you price your photos cheaply, you will be likely to sell them in greater volumes which translates into good profits. In this instance though, your would also be establishing your brand as something "cheap", and that might be a problem because, who doesn't want to be luxurious?
On the other hand, if you price your photos at the premium end of the scale, your fans will expect a good level of quality and exclusivity. See where I'm going with this?
So the middle ground could be preparing different ranges of photos. Some cheaper pics, accesible to all (could be selfies), while you also have in store more exclusive ones for real fans only who are willing to spend a little more and unlock the quality material.
In any case, it's a good idea to scour your platform and have a look at other content creator's pricing list for nudes. This will give you an idea of how the market is looking, what people are willing to pay, what's a normal price, etc.
Where can I sell my nudes?
Before choosing the site where you will sell nudes online, you must make sure that it's one that will keep your information and payments safe and secure. This way, you'll ensure that your naked photos are not stolen.
Something you must also think about is the business model that you want to run. For nudes, you can sell subscriptions which are usually paid in a monthly basis and grants fans access to your private content, or you can have customers pay per photo, without purchasing any subscription. Which option to use will also depend on the possibilities the platform offers. Some have only one and others combine the two.
Don't forget that in order to sell 18+ photos you have to be overage. Therefore, any website that you decide to work with will require you to verify your age with a supporting document. They might also ask you for a few full body and face pictures to check that the document belongs to you.
1. OnlyFans
OnlyFans needs no introduction, but for those confused, it's a platform where content creators can sell access to their exclusive content. Users pay a monthly fee to see all the content you post, and here's where nudes come into play. OnlyFans is adult friendly, so you can post as many naked photos as you want. In fact, OnlyFans is well known for this kind of content, as there are a lot of sex workers and adult entertainers selling their sexy footage there.
A key benefit to the site is that it keeps all your information private and secure, which is always a relief especially in the adult industry. Members will only be able to access whatever it is that you release on the platform, whereas physical products like polaroid prints are all at the model's discretion.
You can set the price for your subscribers to pay. Most people set this anywhere between $5-$50. Probably the characteristic that makes OnlyFans ideal to sell nude pictures, is that they are very generous with the cut they provide for their content creators. The site only takes a 20% of the creator's gross monthly earnings.
OnlyFans has high traffic, fast and flexible withdrawal, low minimum payout, and DMCA protection.
2. My.Club
My.Club has taken the world by storm and is becoming the new OnlyFans, but bettered. It has way more features to monetize your content, like teaser posts that anyone on the internet can see, possibility for users to send tips, a profitable referral program, etc. Moreover, it's always adult friendly and will remain like this, with no unexpected turns.
The premise is the same as OnlyFans': you set the price of your club, and fans pay it monthly in the form of subscription to access your content. You can post your nudes there for everyone to see but on top of that you can also sell them directly to your fans via private messages. My.Club has a great messaging system that allows creators to send private or mass messages (to save you some time) to their members and sell their content directly there. So if you're feeling frisky, you can just mass send a nude through the chat, and users will have to pay the price to unlock it.
On My.Club creators can join forces with one another and post content featuring each other to then drive more traffic. As you can see, the site is not only about connecting with fans, but also about connecting with other creators. And you don't even have to worry about starting from scratch with your content; My.Club has a migration feature that allows you to transfer all your existing content from other sites to My.Club.
3. FanCentro
FanCentro is a platform mainly created for adult entertainers who want to make money selling nudes. It has plenty of features and income streams, and getting started is as simple as ABC since they have an influencer education program known as Centro University, where future content creators can learn how to use the site, master the features, and maximize their profits through detailed tutorials.
FanCentro has different customizable subscription plans that you can choose from, its interface is easy to use, and has a great way to manage payments for all your social media channels.
In addition, FanCentro has great tools to make money such as pay-to-view feed, DMs, clip store, live streaming, and a referral program that lets creators earn 10% of the earnings of every model they refer for a whole year.
Just like My.Club, FanCentro also has the content migration feature to help you transfer all your existing content from OnlyFans (if you have one) to FanCentro in just one click.
4. ManyVids
ManyVids is a company that provides a safe space for anyone to market their adult content and nudes. Creators can sell individual videos, physical items, or subscriptions. The page gets 6.5 million visitors per day and has over 3 million active members, making it a great place to sell content. Additionally, it specializes in fetish categories, which means that if you make content on a specific niche, you will be able to market it in ManyVids.
Some of its pros includes high rates, high traffic, good customer support, possibility for users to tip creators, intuitive features, and a great range of products.
5. Mygirlfund
Mygirlfund is a site made and thought exclusively to sale nudes for money. Users can browse through the profile of creators who are selling their explicit photos and videos. Users will only have to click on their profile, and they'll see links to access their private pics, chat with them, or even send them photos. There, they will also be able to see how much each creators charges per photo.
As the creator, you're in control of your prices and content. Mygirlfund is all about the connection and interaction with the user, and for that they provide a blog in your profile where you can share anything about your life with customers.
What makes Mygirlfund pretty unique is its payment system. Members purchase credits from the company which they then use to buy your services. Each credit is worth a dollar, and you can cash out whenever you want as there is no minimum payout amount. Fo payments over $10, members have the possibility to select and escrow payment, in which the payment is sent to you, but the funds are not released until the customer accepts the content. This way, they guarantee that both you and the user get what's yours.
6. Snapchat
If you thought that Snapchat was just a social media app for teenagers and college students, you're wrong and could be missing out on a great business opportunity. Believe it or not, Snapchat is one of the most popular and effective ways to sell nude pics.
Disappearing snaps changed the game forever, and now the platform went above and beyond launching premium Snapchat, a private account that people have to pay to access. Here you can sell your spicy pics, but rather than being paid by the app itself, you'd have to use any of the other sites listed here to advertise your premium Snapchat. Basically, when someone subscribes to your Snapchat account, they'll have to pay through a separate payment platform to then gain access to your premium nudes.
7. Stripchat
Stripchat is not one of the most popular cam sites by chance. It has a large fanbase and great features to back it up.
You might be wondering, why Stripchat, isn't that for camming? Well yeah, but it also offers a space and plenty of possibilities on how to sell nudes. You have available public and private albums where you can add your photos and videos for users to buy. Also, you can sell your content directly through direct private messages, similarly as with My.Club.
Luckily, Stripchat has its own source of traffic, so getting fans in the beginning is quite simple. Of course this would require you to become a camgirl. If you want to get members, you'll have to lure them with your cam shows, and then it's when they might start buying your content. The good thing is that Stripchat has a lot of ways to make live streams profitable, like interactive games that you can install in your room, tips, interactive menu, tip goals, and much more.
It's also worth-mentioning that you have the choice to record your live show and then sell it to users who missed it or users who want to watch it again and relieve it.
In general, Stripchat has high traffic volume, niche for fetishes, video tutorials to learn how to use the site, great customer service and a profitable referral program.
8. Bentbox
Bentbox stands out as a remarkable avenue to sell nudes. Tailored as a dedicated platform for selling photos and video clips, it seamlessly integrates model's social media handles, much like other leading nude-selling sites. Through Bentbox, you can bundle content into boxes and set your desired price. For instance, a box could encompass 15 images and five video clips, each with its own price.
A distinctive feature of Bentbox is its commission structure—it's the customer who bears the commission, not the seller. When a user purchases a box, they cover both the model's amount and the additional Bentbox charges, offering an innovative approach.

However, the payment cycle requirement is a downside. Only when your account achieves $100.00 in sales can you withdraw your earnings, with payouts processed during the first week of each month. On-demand payouts are not an option.
9. LoyalFans
LoyalFans occupies a more moderate position among adult Fanclub websites, omitting extensive kink or fetishes. If your focus is solely on selling nudes for profit, LoyalFans serves as an excellent choice. The site operates as a video chat and live-streaming subscription platform.
Earnings encompass the standard 80% commission on your visual content. Unlike Bentbox, LoyalFans performs two payouts per month: one for the initial fifteen days and another for the latter half of the month. A minimum $50 balance is necessary for a payout.
10. MVCrush
MVCrush is a prevalent adult Fanclub platform catering to nudes sales. Beyond selling nudes and videos, the platform features an e-commerce store for selling sex toys, texting and call services, tips, selling nudes, and more. Integrating your Twitter handle is possible to attract larger audiences.
The platform introduces a distinct aspect: the ability to set a trial rate for subscription services. This tactic entices users to subscribe fully.
For your first year with MVCrush, a generous 90% commission is offered, surpassing other platforms. Post this initial period, the regular 20% cut, akin to other platforms, applies.
11. Clips4Sale
Clips4Sale functions by hosting downloadable content from various models, spanning video clips and images. Membership charges can be implemented for accessing content, and that's exactly how you can sell nudes. Traditional tipping is also part of the system.
Unique to Clips4Sale is the option for models to sell DVDs on the platform.
Notably, the commissions here are modest, with a collection of 60% from sales (excluding tips and DVD sales).
12. Unlockd
Unlockd, similar to Onlyfans and launched in 2020, facilitates the sale of adult content. A standout feature is its lower fee percentage of 15%. Earnings undergo a 15% deduction, which is notably less than competitors like Onlyfans. Additionally, Unlockd permits customized rates for content offerings.
13. ModelHub
ModelHub, affiliated with the adult industry giant PornHub, lives up to its reputation. Unlike some platforms, it enables subscription-only content for viewers and facilitates pay-per-view live-streaming sessions. Selling nudes and videos is feasible here, along with an integrated e-commerce platform for merchandise. Custom videos can also be offered, with negotiable rates.
Charges range from 0.99 to $99.00 per month for fan access. Given its PornHub backing, heavy traffic ensures content visibility.
However, it imposes a 35% deduction from earnings, notably high compared to other platforms. Tips, though, follow the standard 20% deduction.
14. IWantClips
This messaging and live-streaming platform suits selling nudes lucratively. Up to $10,000 can be charged for tips and sales, making it ideal for a robust customer base. Subscription-only content and pay-per-view live-streaming, along with pay-per-open messaging, are available.
Payment options include daily, bi-monthly, or monthly payouts.
15. SkyPrivate
SkyPrivate is renowned for intimate live sessions and allows creators to sell goods online like used panties, photos, videos, and of course to sell nudes as well. Skype is used for live sessions. Models can offer prepaid or minute-paid shows.
The platform caters to diverse niches, with a 25% commission on sales. Custom rates for subscriptions and Bitcoin payments are notable features.
16. TeddysGirls
This multifaceted platform supports messaging, video chat, and live streaming, particularly for NSFW content. Similar to MVCrush, it integrates Twitter handles for wider reach.
TeddysGirls features user-friendly UI/UX design for easy navigation. As a newcomer, adapting to the interface is seamless.
Payouts vary, with once-a-week requests and processing time based on region. Models receive a substantial 75% of subscription fees.
17. Suicide Girls
Unlike other platforms to sell nudes, Suicide Girls employs a selective hiring process. Chosen models earn $500 per day for performing. Aesthetic preference leans toward emo, gothic, and punk rock looks, particularly for those fond of tattoos and piercings.
Suicide Girls ensures steady income and pays tips separately. A standard 20% fee is applied to tips and external sales.
18. Patreon
Patreon stands as a widely favored fan club site, attracting diverse creators spanning dancers, artists, musicians, podcasters, and adult content producers. Notably, Patreon embraces both SFW and NSFW content, so selling nudes is allowed, integrating seamlessly with Discord, Crowdcast, and various social media applications.
Concerning transactions, Patreon ranks as the internet's premier platform. It merely applies a 5% to 12% deduction on every sale, dependent on your membership scheme. Unlike its counterparts, no constraints limit your payout frequency. Within Patreon, you possess the liberty to select payouts as frequently as desired. Additionally, it enables you to devise subscription tiers for content categorization, with pricing flexibility.
However, the platform's guidelines leave ambiguity about the permissibility of full nudity and sexual performances.