How to sell boob pics online and make extra money
Why spend 40 hours of your week working a 9-5 job cooped up in an office when you could be selling boob pics for a living? Plus, you could actually make triple the money or more. Even if selling tit pics online might sound like a strange idea to some, it's in fact a super lucrative opportunity. Yay for the internet!
However, if you decide to embark on the boob content-selling business, setting yourself apart from the crowd is vital to succeed. The thing is, everyone has seen boobs before, but they haven't seen yours, and that's what makes you unique and what you should exploit. By learning how to market yourself effectively, you can attract potential buyers and start earning good cash.
In this article we will explore the best ways to sell tit pics and we'll give you all the essential tricks you need to make it an enjoyable and profitable experience.
How to sell boob pictures online
Find your platform and sign up
The first thing you must ask yourself before getting started is "where can I sell boob pics?" This is the most important decision you must make, as the platform you choose to sell boob pictures on will account for most of your success. You must take into consideration their available features to monetize content, ways to interact with users, cut percentage on your earnings, ease of use, and quality of their customer support service among other things.
If you want to save time researching, we have a recommendation for you: My.Club. This content-selling platform is great for those looking to sell boob pics online. Simply sign up and start posting, no fuss no muss. Plus, with features like a referral program or tips, creators of My.Club can also benefit from a steady, passive income.
Fans can easily subscribe to your club to access all your hot content. As a subscription-based platform, creators will benefit from multiple income streams, including their own monthly income from subscriptions. The groundbreaking messaging system makes it easy for creators to engage their audience with mass or private messages where they can sell content directly to them, and thus convert that engagement into earnings.
Now that you know where to sell boob pics, let's go to the next step.
Create social media accounts
If you want to be successful selling boob pictures on the internet, you gotta get on one social media platform, at least. Your first subscribers will probably come from your promotion efforts on social media, so it's important to spread the word about your club.
Before promoting content on any platform, it's essential to be aware of their rules and guidelines. While My.Club caters to adult content, Instagram and TikTok have stricter policies. Always adopt caution while sharing content, ensuring it does not violate any platform policies.
Thankfully, My.Club's promo page feature provides a free personalized landing page with a custom domain. This webpage incorporates links to your social media profiles, My.Club account, and other relevant platforms, giving you complete control over promotion. The best part? You have a website address that reflects your brand, conveniently shareable across all platforms without being blocked. This simplifies the process of finding potential members online while ensuring 100% safety and compatibility with all sites. Gain immense exposure, ultimately leading to an expanding membership base.
Interact with potential clients
When it comes to selling boob pics online, the most crucial thing is to interact with potential buyers on social media. You need to be commenting under similar posts and chatting with those who discuss the same things. Remember, there's no need to be offensive even if someone provokes you. Social media is a space for a variety of different opinions, and people won't always agree with you or your hustle.
You may receive some negative comments or unpleasant remarks, but always stay calm and polite. A great strategy is to treat everyone like they're a possible purchaser, no matter how they speak to you.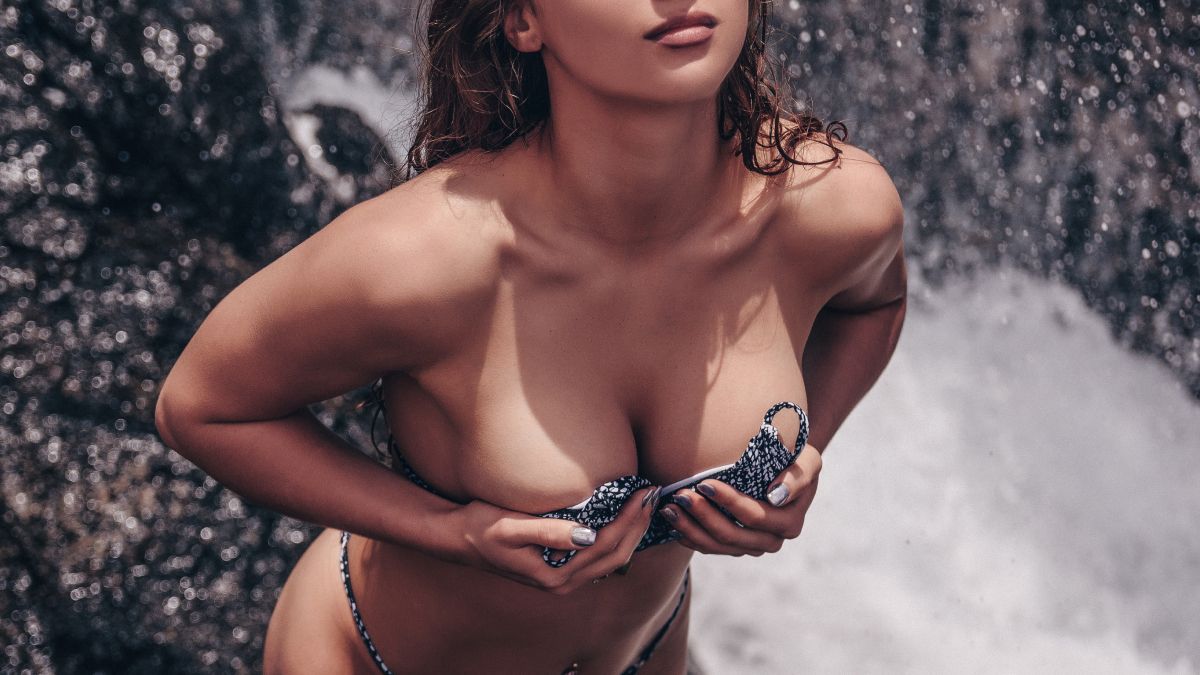 Post sneak peeks
To grab potential buyers' attention on social media, you have to post fresh content constantly. But sometimes words aren't enough to woo skeptical individuals. So give a little by posting teasers and sneak peeks of the content they'll see after purchasing. Make this content engaging, positive, and interesting to read.
My.Club once again comes to the rescue with their Teaser Posts feature, which are an amazing way to display your club's content not just within My.Club, but also to non-members on the internet. By following the link to your club, anyone can see the Teaser Post. Think of these posts as your chance to lure viewers into becoming members. Thus, make use of this opportunity by creating compelling and enticing Teaser Posts for maximum attraction. If their interest is piqued, they'll want to see more of your content.
Take professional-looking photos
How to sell boob pics if they don't look professional? A random boob selfie isn't likely to cut it these days. People want to see creators putting effort into their craft. So, before you start to sell pictures of boobs for a living, remember that you need to put in the work.
Find your best angles, learn some photography skills, and maybe even invest in an online editing course to take your photos up a notch.
Don't be lazy – it's time to hustle.
Add creativity to the mix
You must get creative to sell boob pics. If you don't make a lasting impression, you won't attract clients.
While seeking inspiration from other sellers on social media can be beneficial, it's crucial to avoid imitating their exact approach. Instead, strive to find your own imaginative ways of capturing photos and infuse them with a consistent theme and editing style that tells a distinct story from your perspective.
Expand your horizons by exploring unconventional settings for your photoshoots, such as public spaces, restaurants, bars, or even amidst nature during a relaxing picnic on the grass. You can also experiment with incorporating objects like dildos or other stimulating toys between your breasts, or add a touch of allure by applying oil, milk, peanut butter, cake, and other intriguing elements.
For instance, consider creating a narrative around cooking and compile a series of ten photos that gradually unfold the story. Begin with an image of your breasts resting on a table, followed by a shot of them adorned with flour as you work the dough, and so on. Apply consistent editing effects to these photos and present them as a collection for your paying customers to enjoy. They will undoubtedly relish both the storyline and the artistry of the images.
The possibilities for creativity in this niche are truly endless. As you delve into your unique style, you'll discover it becomes challenging to replicate others' work. Seek inspiration, but always strive to express yourself through innovative means.
Remember, it's important to maintain a level of professionalism in your photos while preserving your authenticity. Although countless free boob pictures are accessible online, your goal is to captivate individuals and compel them to invest in your authentic content. You can also combine it with sexy text messages you send to your fans. By staying true to yourself and attracting buyers who value your genuine approach, you'll cultivate a dedicated following eager to support your work.
Embrace your creative spirit and let your distinct voice shine through in every photo you share.
Do something special for your buyers
Don't just sell titty pics; consider offering a unique service that goes beyond the digital realm. Create an experience where your buyers receive an envelope containing a couple of personalized boob polaroid photos, along with a card featuring creatively crafted erotic writing or a playful thank-you note. Add an extra touch by spritzing a smaller card with your favorite perfume.
Another way to treat your buyers is by surprising them with free audio or video content. Consider recording yourself reciting erotic poetry or providing sensual moments where you showcase your breasts. You can even send personalized "thank you" audios to express gratitude for their purchase.
You'll soon discover the immense appreciation people have for these personalized gestures, which can foster loyalty and encourage repeat customers who eagerly anticipate your creative content.
In a saturated market, standing out and offering a unique customer experience is part of knowing how to sell tit pics.
Bottom line
Selling boob pictures online can be a solid side hustle for those looking to make some extra cash. However, it's important to keep in mind that there's competition in this adult niche. If you want to stand out, dedication and creativity are key. So now that you know how to sell titty pics, show off those hooters and start raking in the big bucks!